India is the hub of the spice cultivation from the time immemorial. India has been exporting the spices to many parts of the world for hundreds of years. While many believe that the Indian spices are the perfect ingredients to add to the deliciousness of the food, but, not many are aware that these spices possess the medicinal properties as well.
Many compounds found in the Indian spices are also an integral part of several over the counter medications and ointments.  The plethora of beauty products possesses the oils and compounds derived from the Indian spices.
Here are the top 5 Indian spices with their inimitable medicinal properties.
The bright yellow Indian spice, Turmeric is known for its immense health benefits. Being an antioxidant, it is very effective against cancer cells. Apart from treating the inflammation in the body and preventing Alzheimer disease, it is also very helpful in treating stomach bloating, intestinal gas, diarrhea, heartburn, stomach pain and much more. Also, it can be used as a topical treatment for infected wounds and skin inflammation.
The little black tiny flower shaped spice is extremely rich in medicinal properties. Cloves are an active ingredient in many popular kinds of toothpaste and toothache relieving ointments because of their teeth and gums healing properties.
Chewing clove with a small crystal of common salt eases the expectoration while relieving the irritation of the throat.  It also an effective remedy against asthma and is also rich in antiseptic properties.
Commonly known as Dalchini in India, Cinnamon is being used as medicine for relieving diarrhea, fever, menstrual problems, and nausea. Cinnamon is also used for stimulating the digestive and gastric juices, and it is also rich in antiseptic properties. This is why it is used in toothpaste to kill the tooth decay causing bacteria.
Drinking warm water with honey and cinnamon is also known to aid the weight loss.
Known as jeera, the cumin seeds are a rich source of iron. Consuming cumin seeds keep your immune system healthy, and the cumin seed oil is used for relieving flatulence. When cumin seeds are boiled with water, they can be used to treat dysentery, and the cumin seed tea, when consumed before meal aids digestion while providing effective relief from gastric issues.
Also known as ajwain, the carom seeds are used an effective remedy against all sorts of tummy, digestion, and gas related troubles, The carom seeds treat indigestion, gas and stomach pain quite efficiently.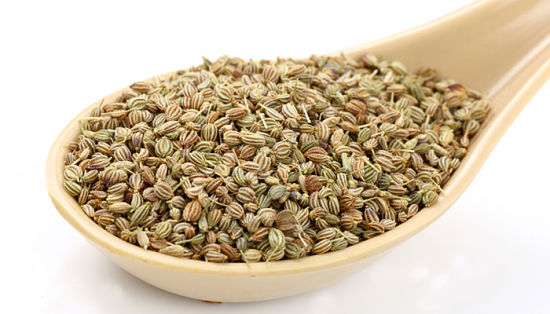 When mixed with fennel seeds and roasted together for a short while, these can cure all the issues related to digestion and flatulence.
After knowing about these qualities, you will certainly start looking at these spices from a new perspective.
So, whenever you are not feeling well, you can try finding a natural cure right from your kitchen. You can use the spices to cure small day to day issues. However, do not only rely only on the spice's medicinal properties and consult your physician if you are not well.