The garden is such a space which is actually meant to experience nature closely. You may drink your morning tea or coffee, spend quality time with family, enjoy lunch and dinner sessions with friends and much more.
There may be fountains, swimming pool, greenery, flowers depending on your needs. As the weather gets warmer, it is good to start planting herbs, veggies, and flowers during spring. To make the process of growing vegetables, fruits and herbs easier, you need to follow certain gardening hacks. You will soon have a lush green flourishing garden that is sure to become an object of envy.
Sprinkle eggshells to deter snails and slugs 
Eggshells are rich in calcium and may be sprinkled all around the plant in order to deter snails and slugs. It will stop the snails from accessing your flowers and vegetable plant. So, you may keep them away without even using any chemical. Egg shells are great when it comes to the healthy growth of plants.
Source
Reuse home products like toilet paper tubes and milk jar 
You may use the toilet paper tubes to make the starter pots. It is eco-friendly and sustainable. When you are using toilet paper tubes, you are actually using something which would be thrown away. Similarly, you may take the milk jar, wash it thoroughly and poke holes in the lid. This jar may be used for watering the plants. You will have a quick watering can to water the indoor and outdoor plants. To water the container garden, use empty wine cans.
Coffee grounds as fertilizer 
Coffee grounds make up for an excellent fertilizer that may be added to the soil. Rich in tannic acid, nitrogen, and various other nutrients, coffee grounds may be used as fertilizer to promote the healthy growth of plants. Apart from this, you may use a coffee filter as the pot liner. This will prevent soil from draining out of the hole.
Source
Use the hanging shoe rack 
If you are willing to have a small garden in the terrace, balcony, you may use the hanging shoe rack in order to plant herbs. The hanging shoe rack may be used to plant bonsais.
Automatic water supply with paper towels
So, even if you go away with your family for weeks, you can actually keep the plants alive. You may prepare an automatic water supply with the help of a glass jar and paper towels. Just place the glass of water beside the plants and soak paper towels in it. One end of the paper towel should rest in the water source while the soil on the other.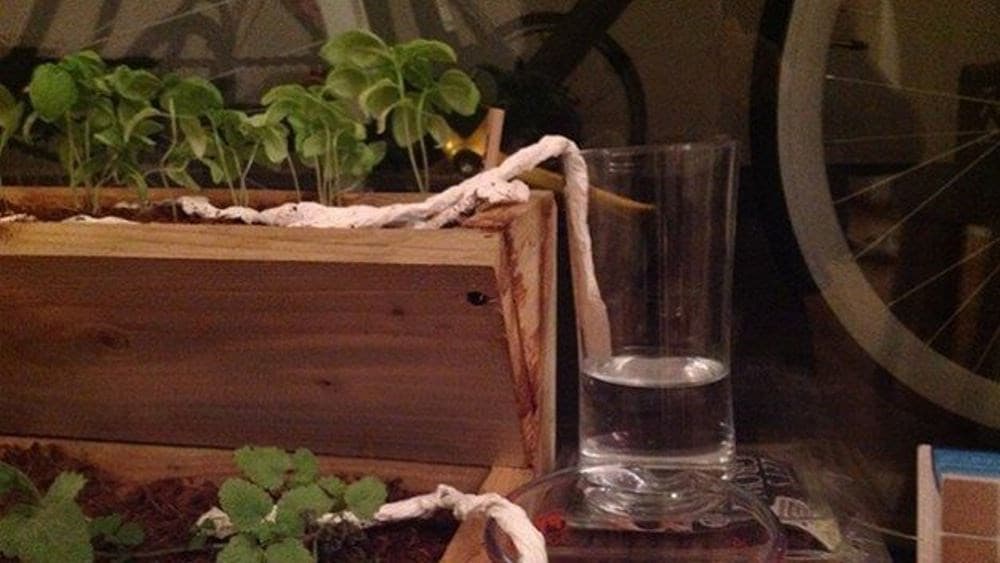 Source
Save your plants from animals 
Now you can actually prevent animals from popping on the fresh fruits, herbs, and vegetables. For this, you can use plastic folks and place all over the soil. Animals will not get in your garden.
Protect plants from frost with mini greenhouse 
You may now prepare mini greenhouse by using the top part of the milk jug. Just place the milk jar on the seedlings to protect from pests and frost.
With a little bit of effort, you will transform your garden into a zone of perfection. You can follow the above stated gardening hacks.