Summer is the hottest season when you need to take extra care of your health to stay healthy. To live a healthy lifestyle, certain arrangements need to be made. While you move out under the sun, you need to take into consideration various things. Eat healthy and exercise well to stay healthy. Let us check out some tips to staying healthy during this time.
Source
Drink plenty of water 
When it is hot outside, you may stay cool by drinking more water. When you rise from bed, drink 2-4 cups of water and similar amounts when you indulge in activities. It is good to buy a travel water filter to drink water when you are traveling. Excessive sweating and heat may leave you dehydrated and thus it is necessary to drink more water during summers. Water will keep you healthy and protect you from ailments.
Use a good sunscreen lotion 
It is important to protect the skin from harmful UV rays. You may use a sunscreen of over 30SPF to protect from ultraviolet rays of the sun. However, do not buy a sunscreen which uses excessive chemicals. You may wear hats to protect your head from heat strokes. Grow Aloe Vera in your home to keep the temperature under control. Buy sunscreen that uses aloe vera as the main ingredient.
Refreshing physical activities 
If you do not want to spend time in the gym sweating, you may move outdoors for refreshing activities like biking, hiking, swimming, and tennis. Such activities will keep your heart and body healthy.
Go organic and eat seasonal fruits and vegetables 
Consume seasonal vegetables and fruits to stay cool and healthy when it is hot outside. Fresh fruits, raw salads will have a cooling effect on your body. Juices and salads will nourish your body. To compliment vegetables and fruits nicely, you may eat seeds, nuts, sprouts, yogurt, kefir and soy products.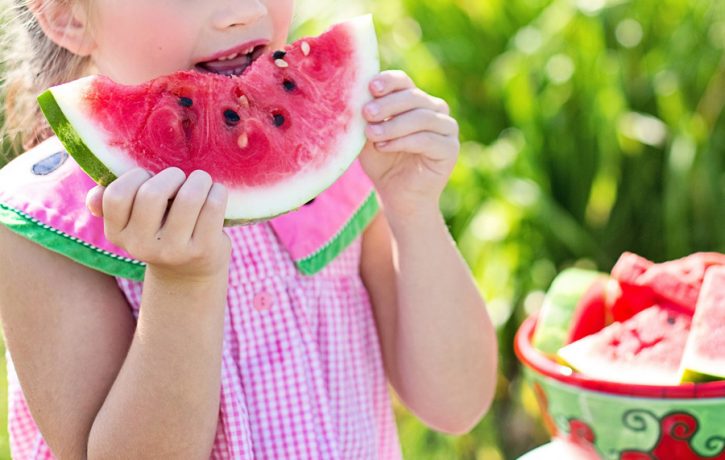 Source
Herbal tea is essential 
Do away with beverages high in caffeine content. You must choose green tea, tea bags comprised of flowers and leaves. Herbal tea will have a soothing effect on your body and mind. There are various options in herbal teas like red clover tea, hibiscus tea, chamomile, peppermint, green tea and lemongrass tea.
Take nutritional supplements 
Nutritional supplements will infuse more energy within you and prepare you for summer activities. For instance, Vitamin B complex is calming for the nervous system while Vitamin C can protect you from stress. Siberian ginseng is the popular summer herb which can eliminate stress.
Source
Indulge in Yoga 
Summer is the perfect time when you should try and awaken your spiritual self through meditation and relaxing exercises. You may go to summer camp, which has a lot to do with breathing exercises and yoga.
Source
Experience nature to stay away from stress
You should relax amid nature and walk in green surroundings to experience nature. Nature can have a soothing and calming effect on you.
By following the above tips, you are sure to stay healthy all throughout the summer season. Follow a proper diet and enjoy nature's bounty to stay healthy.